I was given my grandmother Marjorie's sewing box (yes, that Marjorie) a few months ago -
It's pretty cute, with lots of vintage-y looking sewing stuff inside to look at, but there are a few things that especially stand out for me:
My grandfather Jack (yeah, that Jack) worked for a moving company, and it seems that these were business cards he gave out to the 'lady of the house'. It's a sewing kit! (With a 'so/sew' pun no less, which I normally
hate
, but I guess since it's so old it's okay).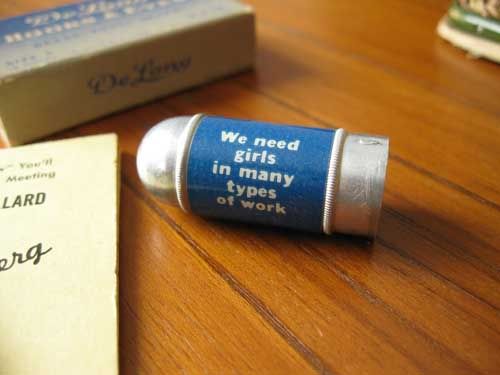 I'm not entirely sure what this is - a long thimble? Whatever it is, it was given out by the Bell Telephone company (where my grandmother did actually work for a time). On the other side is says: "Tell your friends about good job openings at the Bell".
Imagine getting something like this nowadays; at best it would be strange, at worst, offensive (a major corporation distributing sewing notions with ads looking for 'girls!'). But that's what makes all this stuff so charming, I guess.