One of the military surplus materials we use most is the shelter half tent (also known as a pup tent). These tents have been used by the U.S. army as shelter in the field since the Civil War.
We love using them because:
- they have built-in design details like seams and snaps. We try to include these elements in the bags as much as possible, not only because it saves us work, but because they look so much more interesting than anything we could come up with.
-each tent is similar, but most have small variations, which in the end makes each bag unique.
They are called shelter halves because two 'halves' are snapped together to make up one tent. We use the sections of tents with these snaps as bag closures: look for them on the
madeline
,
augusta
, and
ossington
bags on our site.
A great caption accompanied this photo:
"With the grace and dexterity of a master dressmaker, this attractive young woman fabricates "pup" tents for the expanding war army at the Langdon Tent & Awning Company."
A similar caption could be written for this pic: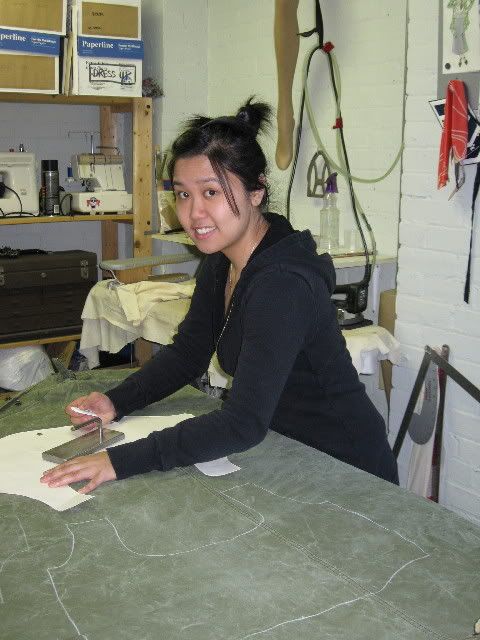 (The lovely Ching-Mei working for the cause)
The majority of tents we use are from around the Vietnam Era, but occasionally we get an older one, from WWII. These ones are my favourites; they are a lighter sage green colour with white stitching, and buttons instead of snaps. We recently made a one-off bag from one of these tents, which we'll be putting in the shop soon.